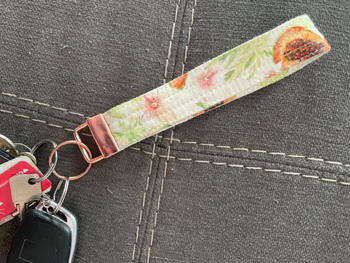 09/07/2021
A little reminder of my favorite sling. Thank you! Have been using on my heavy keys a couple weeks and no visible wear yet.
03/23/2022
Great quality, practical, and beautiful. So nice to have a little piece of art and a taste of a beautiful sling in my pocket! I chose the surprise option, and can say that Mallory obviously puts great care into making every surprise an awesome one!
07/25/2021
Didn't know I was missing this in my life until I got a key fob. I clipped my pouch to it and made a wristlet :) But I do wish the hardware matched between the fob and the pouch.
07/22/2021
I love my Flor key fob! It's such a pretty way to hold my keys, and I was so thrilled that I was sent such a gorgeous print!
07/22/2021
I'm giving 5 stars to the fact that a surprise key fob is an option! So cute and helpful when you are like me-you know exactly what you want in a sling, but are crazy indecisive with scraps. I hope the surprise me becomes an option with minis and sun hats too. So fun!
Sunday,Monday,Tuesday,Wednesday,Thursday,Friday,Saturday
January,February,March,April,May,June,July,August,September,October,November,December
Not enough items available. Only [max] left.