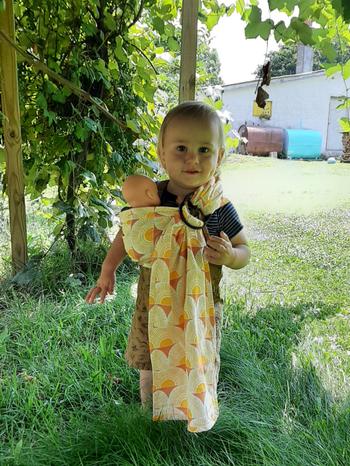 07/22/2021
Love this mini sling so much! I wasn't sure if my little guy would be a fan but he seems to enjoy it. He pats his baby and gives them big kisses on the head every now and then. And it matches mine perfectly.
03/23/2022
I gifted my two year old a mini sling for her birthday and it was one of the most adorable things ever! They are also such great quality and so beautiful! So so happy to have such a fun accessory to add to playtime :)
11/27/2021
This is just too precious! The fabric is gorgeous and so soft. I can't wait to give this to my daughter for Christmas!
11/27/2021
Got for my 4 year old and she loves wearing her babies just like mommy! Very well made and so cute on her
11/27/2021
I am yet to see my baby wearing her babies because I bought this as a Christmas gift, but I did unroll it upon receiving it in the mail and it is so beautiful. I truly cannot contain my excitement about this gift!!!!!
Sunday,Monday,Tuesday,Wednesday,Thursday,Friday,Saturday
January,February,March,April,May,June,July,August,September,October,November,December
Not enough items available. Only [max] left.