I recommend this product
I love this print so much! I feel like I am wearing a real piece of art. The hemp is soft and strong. Easily becoming a household favorite.
I recommend this product
So easy to use! Love the print!
Awesome quality, use it every day
I recommend this product
My husband keeps stealing it to carry our kids
I recommend this product
I had another ring sling from a different company but heard of hope and plum and wanted to try a hemp blend. I am in LOVE with flor! The material is already so nice without washing and baby girl enjoys being in it. The hope and plum community had been so helpful and overall I am super happy with my purchase!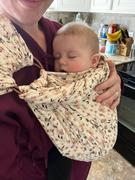 Sunday,Monday,Tuesday,Wednesday,Thursday,Friday,Saturday
January,February,March,April,May,June,July,August,September,October,November,December
Not enough items available. Only [max] left.