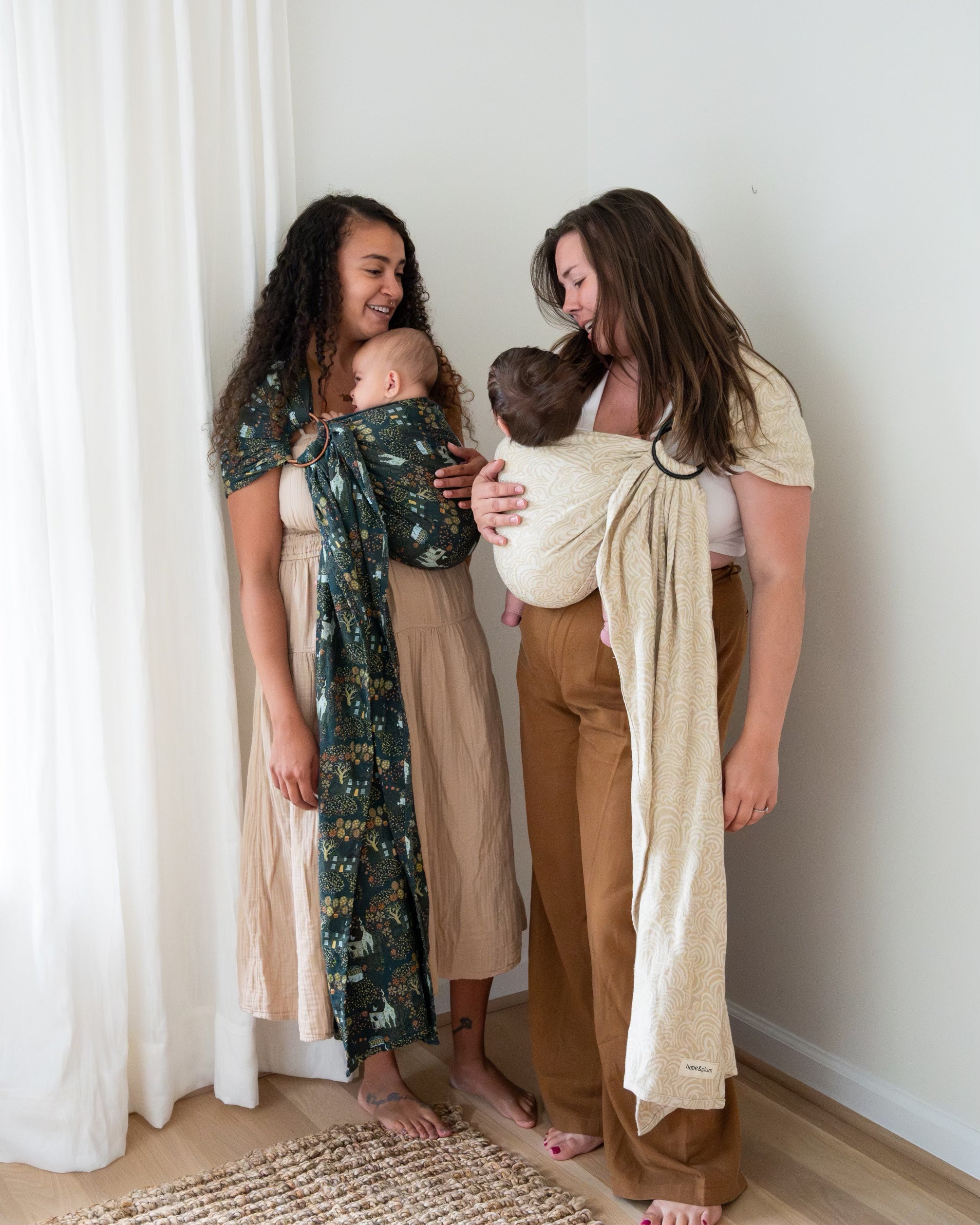 Why a hope&plum Ring Sling?
The first baby carrier we ever made here at hope&plum was our ring slings! And for good reason. A ring sling is a versatile way to babywear since it is fully adjustable and offer multiple ways to carry your kiddo! Why hope&plum? Because our ring slings:
Come in four lengths to fit all bodies!
Are fast and easy to use, while also being compact.
Allow you to be hands-free while snuggling your babe!
Are easy to wash (because let's face it, babies are messy)!
Are eco-friendly, with all natural fibers!
So, long story short, our ring slings are the perfect baby carrier to take you from the newborn stage through toddlerhood! So what are you waiting for? Grab your hope&plum ring sling today and start experiencing the hope&plum difference!
Shop Our Ring Slings!
⭐⭐⭐⭐⭐
I always thought that ring slings in general were not worth it. Man when I tell you life changer! It's a real life changer. Even if you are only hold baby for 10 minutes this sling helps you. It's amazing how much it takes off you back and arms. I didn't have one with my first daughter but I did with my second and I'm so sad for my younger self and what I missed out on. If you parents are hesitant on it just do it. Plus this company has THE BEST customer service! So far love everything and haven't had a bad experience yet.
⭐⭐⭐⭐⭐
"Both my partner and I are plus-size. When researching baby carriers, I had to make sure that the items I was looking at would be appropriate for my baby's height and weight, and for ours as well. Not all companies are size inclusive. hope&plum's extra long ring slings are FABULOUS. There is plenty of fabric, and both baby and babywearers are cozy and comfortable. Honestly, I probably could have gotten away with a long, or even a standard, but their fabric is so beautiful that I love having a nice long tail."
⭐⭐⭐⭐⭐
I love baby carriers. I have 10 now and 4 of them are ring slings. My favorite is the hope&plum because it's beautiful, soft and supportive. Before hope and plum my favorite was a bamboo blend because it was so comfy but I was always having to adjust it when it started to sag. I haven't had this problem with hope&plum. I wish I could buy one for every season!!!
⭐⭐⭐⭐⭐
I absolutely love my ring sling. I bought another brand of sling thinking I saved money and the fabric was thin and the rings were light. And then I came across hope and plum and I said I'll give it another go and I'm so glad I did. The fabric is thicker and beautiful and the rings are great! I trust my baby in this ring sling! Most definitely worth the money! And most definitely worth it for the bond and closeness with your baby! My daughter loves it and so do I.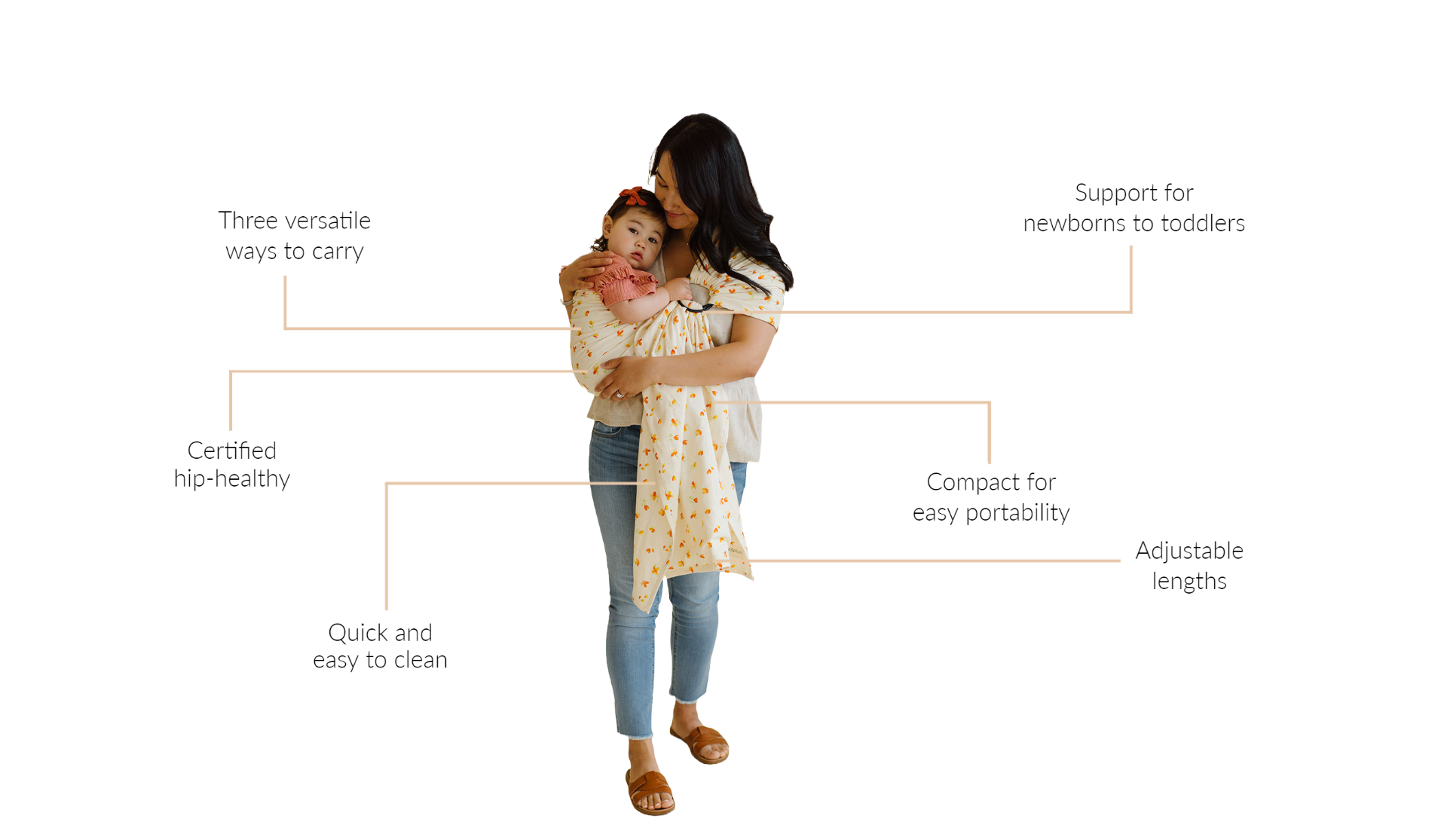 Absolutley! All of our baby carriers have been safety tested and certified to ensure your child's safety and comply with the safety standards set forth by the U.S. Consumer Product Safety Commission. We also are certified hip-healthy, which means you can babywear with peace of mind. Despite our rigorous testing, proper use is essential for safe babywearing. We highly recommend reviewing and practicing the recommended carrying techniques in our tutorial videos which you can find here. 
Yes! We find that most people who experience an average recovery from a c-section start using ring slings around 2-4 weeks after the procedure. We recommend keeping your baby ring sling high to reduce pressure on the scar and discontinuing use if you feel uncomfortable at all.
Literally, one of our favorite things about ring slings is the ability to wear them in so many different ways. The ring system combined with our soft fabrics allows you to mold the ring sling to your body perfectly. And that means several caregivers can use the same sling carrier without issue!
Size incusivity is a core value here at hope&plum and we offer a variety of lengths to fit all bodies!

Our ring sling lengths:

Short: 74" (1.9m)
Mid: 82" (2.1m)
Long: 90" (2.3m)
Extra Long: 100" (2.5m)

Each ring sling is handcrafted, so these lengths are approximate! For a visual on how different lengths look on different bodies, check out our Length Guide.
Yes we do! Size-inclusivity is a core brand value for us and one of the reasons we started our company. We have four different lengths in our baby slings to accomodate different bodies and types. You can learn more about how our baby carriers work well for plus-size parents here.
Yup! hope&plum ring slings give you the freedom to nurse or bottle-feed discreetly wherever and whenever so you can get on with life while nurturing your babe. Ring slings are your perfect feeding companion, no matter how you go about it!
Yes! There are many different ring sling positions, including a front carry, back carry, and a hip carry for older kiddos. You can start using a hip and back carry with your sling when your child has trunk control and is able to sit unassisted.