this sling is all the support i need for my 16 month old! i love the way the sling breaks in and becomes super soft yet still supportive. beautiful color/design!
I fell in love with Flor before I knew she was in high demand. I was finally able to get one for myself in the preorder after the second release and she's just as soft and beautiful as everyone says. Blankety softness right out of the bag, the easiest sling to use, and the pattern is to die for! H&P hemp blends are my favorite!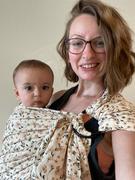 Everything's in the title! Soft, durable, and comfortable! This sling is my favorite hands down!
Sunday,Monday,Tuesday,Wednesday,Thursday,Friday,Saturday
January,February,March,April,May,June,July,August,September,October,November,December
Not enough items available. Only [max] left.