Don't miss it...
Lark Carrier Restock
Our Lark Baby Carrier is the embodiment of quality, comfort, and versatility, designed to make babywearing easier and more comfortable!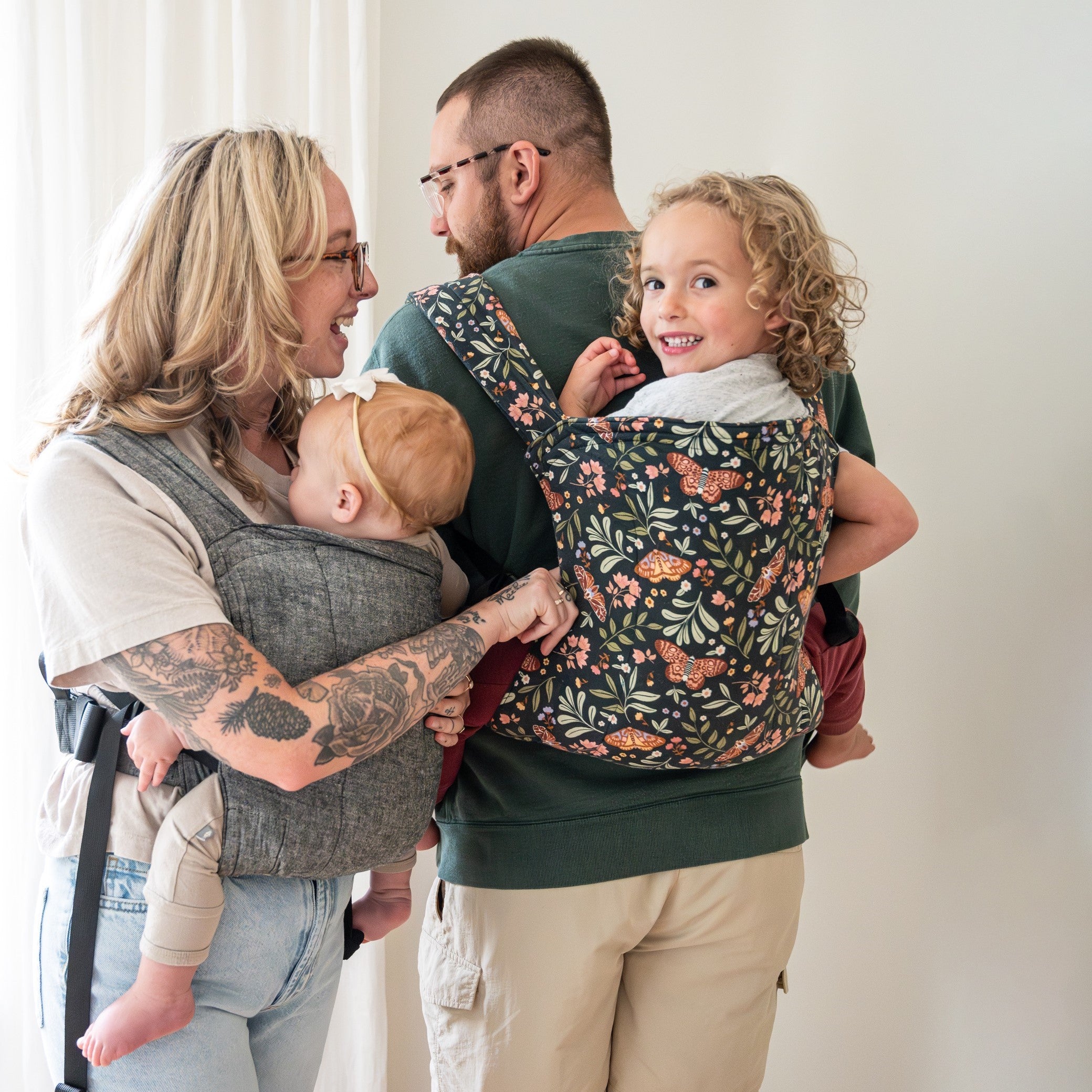 Why the Lark Baby Carrier?
Get ready for a babywearing experience like no other! The Lark Baby Carrier isn't just a carrier; it's a game-changer in the world of comfort, style, and ease-of-use.

✅ Chic and Simple: The Lark Baby Carrier utilizes a simple design that's as stylish as it is functional. No more fumbling around with confusing baby carriers, the Lark is intuitive and easy-to-use!

✨ Cloud-Like Comfort: Bid farewell to uncomfortable carriers! The Lark prioritizes the comfort of both you and your baby. With lightly-padded shoulder straps, a apron-style waistband, and a baby-friendly fabric, it's a win-win for all.

🌈 Versatility Unleashed: Front carry or back carry enthusiast? The Lark Baby Carrier is your versatile companion. It caters to your babywearing preferences, offering a customizable experience for every adventure!

👜 On-the-Go Ease: Fold it, stash it, carry it – the Lark Baby Carrier is your portable pal. It's designed to be compact, making it a breeze to take wherever your parenting journey leads.

👶 Happy Baby, Happy You: Imagine your snuggled-up baby while enjoying hands-free convenience. The Lark Baby Carrier transforms bonding time, whether you're tackling chores or embracing the great outdoors.
Shop THE LARK!
⭐⭐⭐⭐⭐
I had completely given up on soft structured carriers, but as soon as I saw hope & plum was releasing the Lark, I knew I had to have it! And wow wow wow, it is AMAZING! Used at Disneyland with my six month old and we were both super comfortable all day even in the heat and walking all around. The hemp fabric is our favorite, so breathable even in the heat. I love the cross back straps, which make it even easier to carry my baby. Overall, the Lark is here to stay in my collection for as long as my babies will let me hold them!
⭐⭐⭐⭐⭐
Well, this is HONESTLY a great carrier!!! I love the material, the cross straps for front carry, and the details that set this carrier apart from others, like the foldable straps and the chest strap that lays flat with hooking closure instead of a buckle. I am a size 26 with a 44H chest and I comfortably wore the long carrier size with room to adjust. I have tried and own 30+ carriers. This one is beautiful and if I could have just one carrier, I'd definitely choose a Hope&plum!
⭐⭐⭐⭐⭐
I love the Lark! I am 4' 11" and a size small and I have had trouble in the past finding a carrier that cinches down to my size. The Lark is definitely size inclusive, I could front and back carry easily! And the support the Lark offers is amazing too. My shoulders and back felt totally normal after carrying my one year old for two hours straight. This SSC is definitely one for my perma stash!
⭐⭐⭐⭐⭐
I have owned several soft structured baby carriers with both of my children, but they would become increasingly uncomfortable the larger my kids got as well as could only be worn for a short period of time. The Lark carrier is absolutely game changing in both being able to wear for long periods of time and with larger kiddos. My daughter is about 25 lbs and I have worn her for several hours in the Lark and still maintains comfort.